CAPITAL FALLING the AUDIOBOOKS

As black smoke rises, order disintegrates . . .
Former SAS soldier Andy Richards is no stranger to horrors, but no training could ever have prepared him for the nightmare unfolding at home. While a viral epidemic hammers London, Andy finds himself trapped in the epicentre, forced to protect his family. Together with his young daughter, he leads a small group of survivors toward latent refuge, all the while searching for his missing son and infantryman; this is the ultimate game of survival.
With those infected displaying brutal, inhuman behaviour and caught up in a climate of martial law, no one can be trusted. Old connections may help to unravel this mystery virus, but the resultant hellscape means Andy and his group meet danger at every turn.
Stakes are high, and failing means a fate worse than death…
————————
The perfect tale for troubled times, CAPITAL FALLING delivers dark thrills and surprising sentiment—twisted, cerebral fun. You'll race to the end like your life depends on it…

A trilogy of standalone and unique novels that don't hold back and all with a zombie – undead twist……. 
YOU HAVE BEEN WARNED!
KILL TONE
A festival of feverish, exhilarating tension with a rock 'n roll crescendo that unleashes hell itself, this is not for the faint-hearted.
KILL TONE proves the perfect blend of decadence and undead carnage, whilst never losing sight of its predominant humanity.
VOODOO SUN
Caribbean Voodoo may have caused this nightmare, and nothing short of a miracle will help Max get out alive.
A tale of undead carnage and mayhem, VOODOO SUN embarks for bliss but lands in true perdition.
CRUEL FIX
CRUEL FIX is a terrifying trip through the labyrinth of loss and lunacy. Bleak and sinister it may be, but spirited humanity retains a twisted shard of hope . . .
Though all that glitters isn't gold, and all that walks is not alive.
*********
Read these novels in any order, you choose. Each is a tale of its own and completely unique, but be warned they don't hold back and are not for the faint-hearted or easily offended!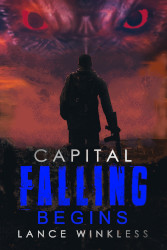 CAPITAL FALLING – BEGINS
Free Prequel Excerpt – The Zombie Apocalypse has erupted in London – But how?
Find the answers in Capital Falling – Begins, the thrilling prequel to the Capital Falling series. This free short story excerpt tells of the events that led the horrific apocalypse that threatens to destroy London.
There are no catches, the book is totally free through Bookfunnel – Now also available on AUDIOBOOK.
For Kindle, Apple and all other devices, simply click.